Log into the Expandable Customer Resource Center using your company's login ID and Password.
Customer Resource Center Information
Expandable users currently on maintenance are invited to enter the Customer Resource Center, where your valid password provides around-the-clock access to materials and information collected to help you get the most out of your partnership with Expandable.
The Customer Resource Center is a secure area and restricted to Expandable users with a current maintenance agreement.
If you are an Expandable customer who is having difficulty accessing the site with a valid Username and Password or do not know your login credentials please call the Expandable Support Hotline at (408) 247-3300 or email support@expandable.com.
Video Overview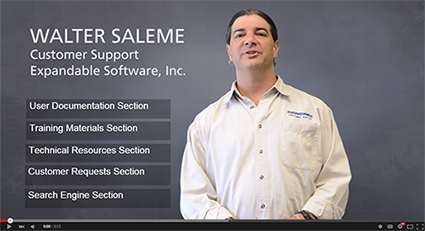 Watch the overview of how to use the Customer Resource Center and find out:
How to get your login credentials
How the user documentation is organized
Where to access the training resources
What kind of Technical Resources are available
How to send feedback to Expandable
How the search feature works